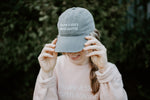 You Are A Story Worth Loving ®- Baseball Caps
You are a Story Worth Loving Baseball Cap. 
What kind of hat do you wear? The wife hat? Friend hat? Entrepreneur Hat? Or the Mama who wears all the hats?
These hats are a gentle reminder that no matter what type of hat you wear, your story is worth loving. 
They are perfect for heading out to a ball game, running errands, working out at the gym or simply covering up your days worth of dry shampoo. 
"You are a Story worth Loving" creates a community where your stories are supported, your voice is heard and serves as a gentle reminder that the stories of our lives are worth loving. These hats not only allow us to recognize and find our own inner voice, they invite others to join in the conversation and share our stories.
Sorry, there are no products matching your search